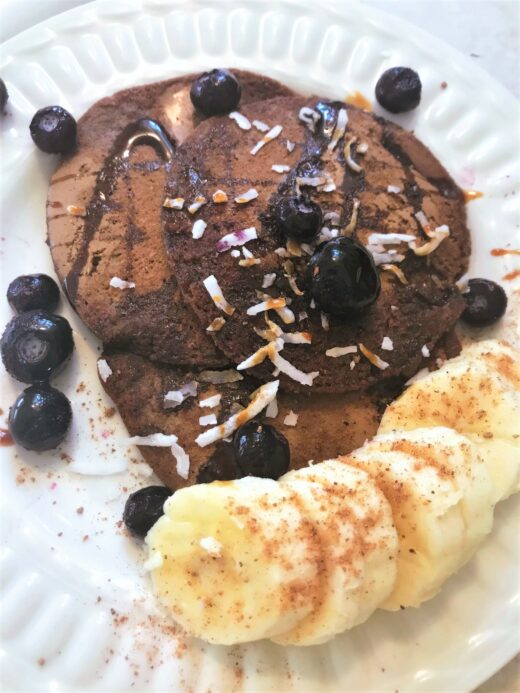 Chocolate Carob Pancakes (Vegan & Gluten-Free)
Chocolate Carob Pancakes (gluten-free & vegan) these are delicious pancakes that serve more of a health benefit than just an eating them for a meal. These are packed full of omega-3's, vitamin B, D, and E, minerals, and fiber. Chia seeds are a super food, with a significant amount of protein, which can boost your mood, energy levels, brain function, and overall health.
Ingredients:
1 cup gluten-free oat flour
2 scoops of chia protein
3 tablespoons toasted Carob powder
1 teaspoon gluten-free vanilla extract (alcohol free)
2-3 cups hazelnut milk
1-2 tablespoons extra virgin olive oil (cooking oil)
1/8 cup unsweetened coconut flakes (topping)
1/4 teaspoon nutmeg (topping)
1/4 frozen blueberries (topping)
2-4 table spoons molasses (topping)
Instructions:
Combine gluten-free oat flour, Chia Protein, and carob powder together into a blender.
Add vanilla extract and hazelnut milk to the mixture and blend till evenly smooth.
Meanwhile preheat skillet over medium heat and add olive oil.
Once skillet is hot, using a 1/8 size measuring cup, scoop batter on skillet. (Make sure to leave about 1/2 inch between pancakes in order for them to expand).
Pancakes are ready to flip when little bubbles appear and the edges look slightly dry.
Flip pancakes and cook for another couple of minutes on the other side.
Remove from heat and serve while hot.
Top with nutmeg, unsweetened coconut flakes, blueberries, molasses, or any of your favorite toppings.
Optional Ingredients:
Toppings: Banana, berries, cinnamon, cardamom, cocoa nibs, nuts, or vegan sweeteners.
Vegan Sweeteners: Agave nectar, maple syrup, or date syrup
Health Living,
Thank you for reading our blog, you can thank us by buying us a smoothie!
---
If you find our blog useful, kindly share it with your friends.