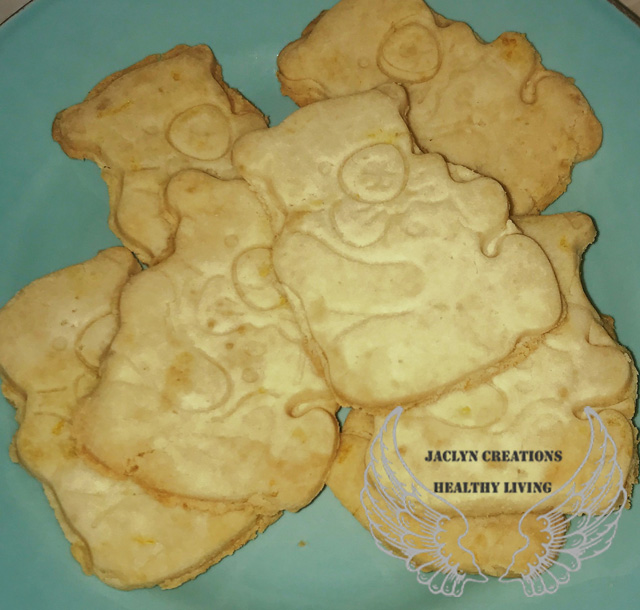 Gluten-free, Vegan, Shortbread Cookie's
These delectable gluten-free, vegan, shortbread cookies are the best shortbread cookies in town. They are packed with hints of citrus burst in every bite.
Healthy Tip: Use vegan sweetener alternative such as pure maple syrup, molasses, agave nectar, coconut granules.
Ingredients:
1/2 cup cold pressed coconut oil (room temperature)
1/3 cup agave nectar
1 1/2 cups gluten-free flour (rice flour)
3/4 cups tapioca starch
1/4 teaspoon vanilla extract (gluten-free)
1 lemon or orange (zest from the rind)
A pinch of Himalayan salt or Kosher salt
Instructions:
First preheat oven to 350 degrees Fahrenheit.
Line a cookie sheet with parchment paper.
Using a medium size mixing bowl add in the ingredients.
Next, knead together with your hands until flour forms a dough like consistency. (Dough should not be too sticky. If it is sticky add 1-2 tablespoons of flour to make it more dry.)
Grate the lemon/orange zest (peel) into the dough and knead dough until evenly blended.
Roll dough and flatten by using two sheets of parchment paper with 1/2″ thickness.
Use a cookie cutter and carefully transfer mold to cookie sheet.
Bake for about 10 minutes or until edges turn slightly golden.
Remove from oven and place cookies on drying rack until cool enough to handle. (Cookies will harden within a few minutes, so do not over bake.)
Enjoy with your favorite beverage!
Healthy Living,
Jaclyn Rae