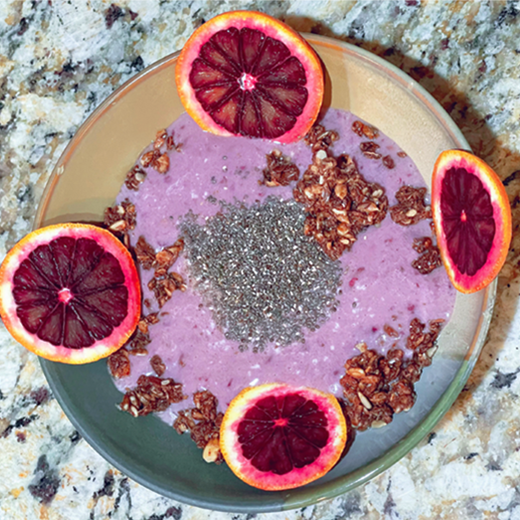 Blood Orange Smoothie Bowl
Blood Orange Smoothie Bowl – Wake up to a citrus breakfast bowl, that will optimize your health, and have you coming back for more! The Blood Orange originated in Sicily and Spain, but is known to grow in other regions of the world. This citrus fruit is packed with antioxidants and vitamin C. The levels of vitamin C are 9 times more than your regular Navel Orange. As rare as it's deep red colors, from the fruit's flavonoids (anthocyanins), offer anti-inflammatory effects on the body. Take notice of the dark pigments such as the dark reds, purples, or bluish tinted colors. These colors are from the anthocyanin compounds, which are also known to protect our cells from oxidative stress, reduce high blood pressure, can help prevent diseases, inflection, cancer, diabetes, aid in digestion and weight loss. Typically, as a seasonal fruit this is easiest to find during December through April. Enjoy blood orange smoothie bowl this recipe as a smoothie for on the go, or put it into a bowl with your favorite raw/super food toppings on it!

Healthy Tip: Save your orange peel, and dry them out. You can ground up the peel into a fine grain-like consistency. Use (1:1 ratio) of mixture with water as a natural exfoliator when you shower, with citrus aromas, leaving your skin feeling soft!

Ingredients:
(Smoothie)
1 ripe Banana
1 Cup Frozen Blueberries
1/2 Cup Frozen Raspberries
2 Scoops Pea Protein
2.5 Cups Gluten-Free Oat Milk (or your favorite nut milk)

(Toppings)
1 Blood Orange (sliced)
2 – 3 Tablespoons Chia Seeds
1/4 Cup Chocolate Grain-Free Granola

Instructions:
1. First, wash and pat dry produce.
2. Peel the banana and toss into blender.
3. Combined the frozen fruit, pea protein, and nut milk.
4. Next, turn on high-speed blender at the lowest setting until it looks smooth.
5. Transfer smoothie into a drinking glass or bowl. Add toppings!
6. Enjoy right away! Can store in fridge for about two days.

Healthy Living
#smoothiebowl #smoothies #berries #orange #superfood #chia #nutrition101 #plantbased #plantbasedcoach #breakfast #raw #rawvegan #rawfoodie #grainfree #granola #chocolate #healthyfood #healthylife