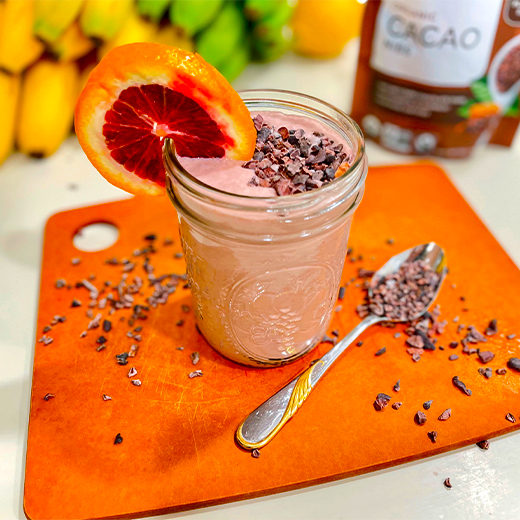 Blood Orange Sunset Smoothie
Blood Orange Sunset Smoothie – Imagine the sand between your toes, warmed by the sun, on a private beach, and dusk is on the horizon with deep glowing hues of pinks, reds, and oranges. This Blood Orange Smoothie is colored just like the sunset I was describing. With such intense flavors, they are bursting with citrus on your taste buds, and their pungent aromas are satisfyingly uplifting. There is a high concentration of Vitamins in this recipe, such as Vitamin C which is great for helping rid toxins from the immune system. This vibrant drink will help to nourish your body and internal gut, reducing inflammation in the body as well.

Healthy Tip: Oranges contain significant amounts of Vitamin C and A. Oranges are packed full of fibers, hesperidin, and folate. These natural properties help in aiding our cardiovascular system as well as playing a role in progressive brain development. The high concentration of vitamin C is a non-inflammatory mechanism as it helps rid toxins from the immune system.
DIY: Instead of tossing away the peel save and dry it out. Then grind into smaller pieces. This is great for use as an exfoliating agent.

Ingredients:
2 Blood Oranges (use 1 to reduce sugar)
¼ Cup Strawberries (frozen/fresh)
1 Can full cream condensed Coconut Milk (can use alternative nut milk)
2 scoops Pea Protein (chocolate)
1 – 2 Tablespoons Cocoa Nibs (topping)

Instructions:
1. First, wash and pat dry produce. Set aside.
2. Peel Blood Oranges, remove the skin and toss them into the blender.
3. Measure 1/4 Cup of Strawberries and add them to the blender.
4. Next, open a can of full cream condensed Coconut Milk and add it to the mixture.
5. Scoop up to 2 scoops of Pea Protein. Now ready to blend.
6. Make sure your lid is secure, and turn on the lowest setting and blend till smooth.
7. Remove from blender, pour into a glass, and add 1 -2 tablespoons of Cocoa Nibs as a topping.
8. Enjoy!

Healthy Living,